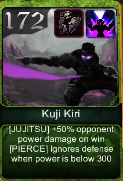 Power: 105-172
Type: Earth
Tier: 8
Description
Edit
Mastering mystical arts this timeless killer has traveled the magical planes to imbue their weapon with arcane powers. no obstacle or protection is a match for the edge of their blade.
JUJITSU 50
+ 50 % opponent power damage on win
PIERCE 300
Ignores defense when power is below 300
Evolution
Edit
Pre-Evolution: None
Evolution: Final Evolution
Evolution Cost: None
Acquisition
Edit
This card is considered Unobtainable.